Our traditionally styled 389 is the flagship model of our fleet. While setting industry standards, our Model 389 is not only the driver's preference but our improved aerodynamics and technological advancements assist in reducing operating costs.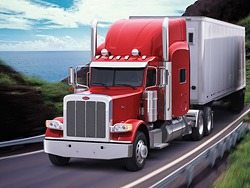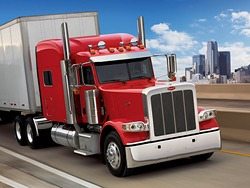 FEATURES
The Model 389 offers a lightweight, all aluminum hood – exclusive to the industry. The distinctive grille, with its punched oval pattern and one-piece polished aluminum crown, completes the look.
Our luxurious "Platinum" interior features:
"Soft Touch" padded dash with burl wood grain and backlit LED gauges;
Year-round comfort with the powerful HVAC system;
G.P.S. navigation system;
The Model 389 has improved its' aerodynamics which result in better fuel economy with;
Proprietary roof fairings with trim tabs to reduce drag;
3" rubber Extender "Flair" on the sleeper which redirects airflow outward and around the trailer. This in turn closes the gap between the tractor and trailer for maximum aerodynamic benefits;
The new composite sun visor helps to increase fuel economy by providing less aerodynamic drag and maximizing protection against glare;
The new mirror design features a tough, lightweight, chrome-plated housing, 4-way adjustability with vertical and horizontal adjustments, integral convex mirror and fully heated primary and convex mirror;
PETERBILT – MODEL 389
The Model 389 is also available as a Day Cab to accommodate applications such as dumping and logging. The lighter cooling system provides increased capacity for the highest horse power engine. A new-style fan shroud and silicone hoses are among our new features.