Rugged and reliable, that's our high performance Model 367.  Perfect for a wide range of vocational truck applications such as dump, mixer and construction – when the going gets tough, the 367 performs.  The 367 is available as a Day Cab or with a Unibilt Sleeper, in two axle configurations, and features a 123″ BBC.  For tractor, oilfield and stationary applications, the 367 is available with REPTO and in a heavy haul configuration with a 1,669 square inch cooling system.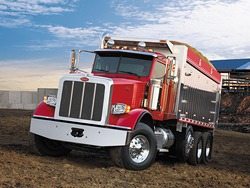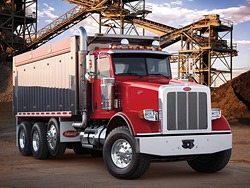 FEATURES
The Probilt interiors are:
Rugged with contoured door panels;
Burl, wood grain eronomic dash; and
LED backlit gauges.
The all-aluminum cab features huck bolted, lap seam constructed bulkhead style doors which provide tough, corrosion resistant performance that is water tight for years to come.
A variety of heavy duty truck components may be specified including full and partial frame liners and tandem, tridem and lift axle options;
The Model 367 bumpers allow for both a centre two hook or dual removable pin configuration that meet the towing guidelines of TMC of 80,000 pounds;
A gently sloped, long length hood allows for engines up to 600 H.P. and a 1,438 square inch radiator;
Cooling efficiency for the higher horsepower engines is provided by a new high capacity cooling module with a new fan ring shroud design which is light weight with better air flow;
The Model 367 is available in either a S.F.F.A. OR S.B.F.A. configuration  depending upon your requirements of maneuverability and/or weight distribution.
Powerful and rugged.  That's the Model 367.  Our most reliable, heavy duty vocational truck is up to any challenge.