The Model 365 sets the standard for quality in a vocational truck.  Rugged, versatile, improved ride and handling – all designed to maximize   performance and productivity with profitability in mind.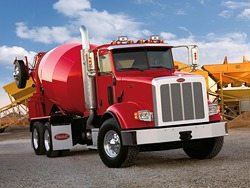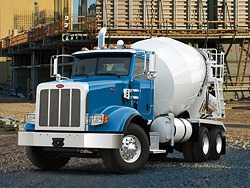 FEATURES
The rugged PROBILT interior is featured with:
Contoured door panels;
Ergonomic dash with burl wood grain;
LED backlit gauges
Five grab handles
Powerful HVAC system; and
Durable, easy to clean materials.
The stainless steel grille protects the cooling system while the advanced composite hood provides exceptional durability and improved driver forward visibility.
To optimize payloads and weight distribution, the versatile Model 365 can be specified with an extensive variety of heavy duty components and a number of configurations.
For vocational or construction applications, the S.B.F.A. configuration is available with FEPTO and all S.F.F.A. configurations are available with REPTO – to ensure versatility with job specifications.
The multiplex electrical system is simple and reliable.  The Electronic Service Analyst monitors:
The system;
Isolates sensors and gauges; and
Maintains an events log.
The new, improved fan ring shroud design has been incorporated into the light weight, high capacity cooling module for improved under hood airflow and better fan-to-radiator interface.
Pod-mounted headlamps are corrosion resistant, durable and provide 50% greater low beam and 600% longer bulb life with the halogen complex reflector technology.
Huck bolted, lap seam constructed bulkhead style doors provide tough, corrosion resistant and water tight performance for years to come.
The Model 365 has S.F.F.A. or S.B.F.A. configurations and has a BBC of measurement of 115″ and is available as a Day Cab or with a UNIBILT sleeper.
For virtually any vocational or construction requirement, the 365 is ideally suited.