The workhorse.  Rugged, durable, quality construction – this truck has it all and is the leader in its field.  Made for non-CDL drivers, this truck delivers the goods with its exclusive hydraulic brakes and a G.V.W. rating of 26,000 pounds and is available in a truck configuration.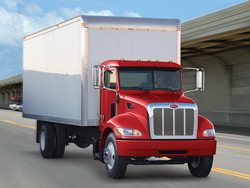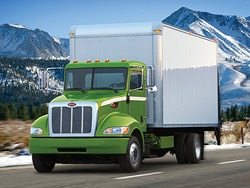 FEATURES
PACCAR's PX-7 engine powers this truck with a 200 – 360 H.P.  output  and is not only lighter when compared to similar 6-cylinder engines, but produces outstanding horse power and torque.
the anti-blow-down locking device prevents unintentional closure of the METTON hood;
the hood opens 90 degrees to allow for easier access to the engine for servicing;
no commercial driver's license is required for the reliable hydraulic brakes which are standard on the Model 330;
Bulkhead style doors are one of the features of the all-aluminum, light-weight cab.  Durable, lap-seam construction with huck bolt fasteners provide years of water tight performance;
Comfort inside the cab, designed with the driver in mind, sets the tone with the plush, two-toned seats and cup holder;
The HVAC components and the electrical are easy to access through the removable dash panels;
No special tools are required to service the high-intensity lighting system positioned right into the fenders which meet perfectly to a one-piece, light-weight painted bumper designed for cost efficiency when replacing;
Driver visibility is improved with the use of the optional sun visor.
The Model 330 is perfect for lease, rental, general freight and towing and delivery applications.  Tried and True.