No commercial driver's license is required to operate the Peterbilt Model 325.  Ideally suited for light or medium duty applications with a G.V.W. rating of 19,500 pounds, the Model 325 is available exclusively as a truck.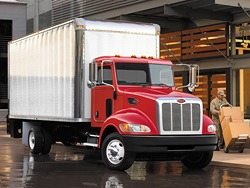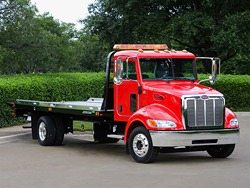 FEATURES
This driver friendly truck offers;
LED backlit gauges that are easy to read;
Switches that are easy to reach;
Service points that are easy to access.
A PACCAR PX-7 powers this truck with a 200 – 360 H.P.  output and is not only lighter when compared to similar 6-cylinder engines, but produces outstanding horse power and torque.
Comfort indise the cab, designed with the driver in mind, sets the tone with the plush, two-toned seats and cup holder;
The HVAC components and electrical are easy to access through the removable dash panels;
The split windshield allows for easy and cost-saving replacement;
Hydraulic brakes with ABS.
Quality, value and low operating costs – that's the Peterbilt Model 325.  Designed with the non-commercial driver in mind, ideal for pick up and delivery, landscaping and municipal duties, the 325 is a sure winner.